ENTERTAINING. INSPIRING. UNFORGETTABLE
Experience a globally renowned psychologist who will educate, engage and excite your audience
It's not easy to find an engaging, entertaining and inspiring speaker that you can trust to deliver to your audience.
There are many speakers out there, it can be overwhelming to know where to start.
It shouldn't have to be.
Owen has spoken on thousands of stages over his twenty-five year career. He has spoken to audiences in the financial, tech, pharma, public, and commercial sectors. His videos online have been seen by millions of people. An award-winning screenwriter and actor, Owen knows how to impact the emotions of the audience. A social psychologist, he is adept at highlighting the latest research and providing insights that have profound implications for the attendees. A world traveler, Owen has worked in multiple continents.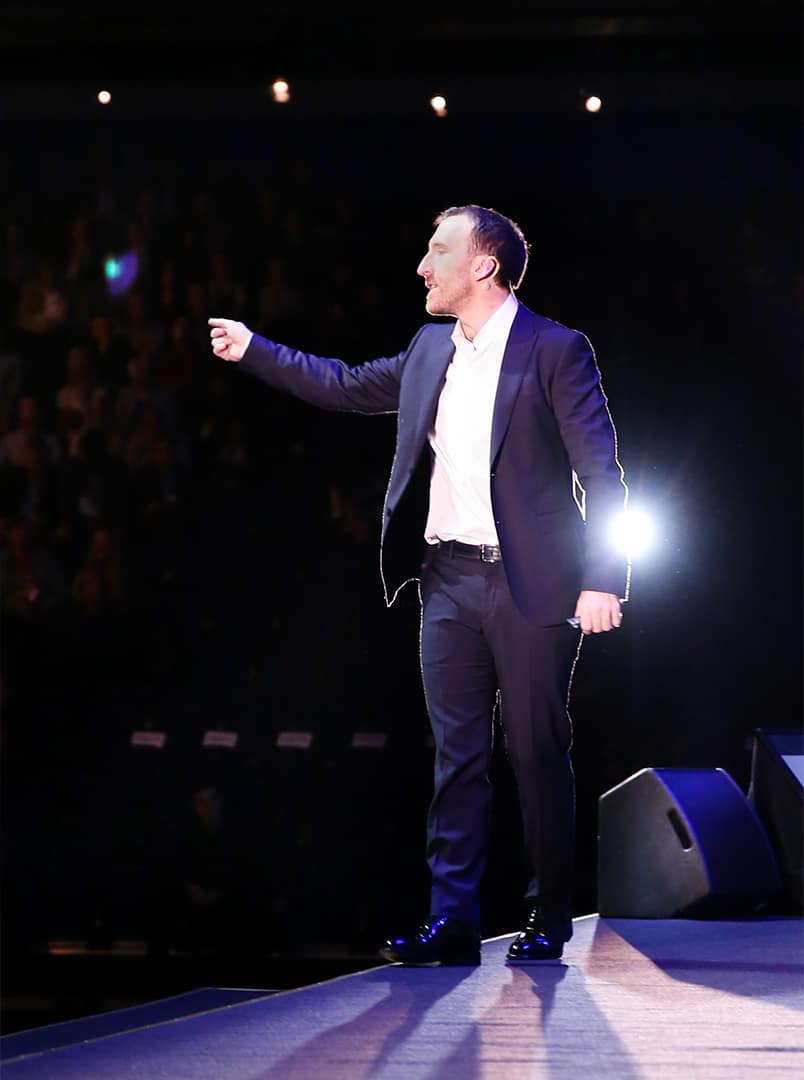 7 TYPES

 OF KEYNOTE SPEACHES
HOW TO DESIGN YOUR FUTURE AND GET THINGS DONE
This life changing speech cuts through the theory and provides you with the key ingredients to building the life of your dreams. Owen believes that you don't have a strategy unless you 'finish with when'.
THE 2 KEY QUESTIONS THAT DETERMINE SUCCESS
In this presentation, Owen breaks down the two most important questions you can ask yourself. He reveals why they matter so much and how they can help you turn anything around.
HOW TO DESIGN YOUR OWN STORY AND BECOME SUCCESSFUL
Stories are the means through which we build our realities. We are the victims and villains of our own life. In this presentation, Owen shows how to change this and how to live happy ever after.
HOW TO BUILD HABITS THAT LAST
Your success is largely dependent on the habits you have build and incorporated into your life and business. In this transformational speech, Owen unlocks the secrets from neuroscience and psychology that reveal how habits work and how to change for good.
HOW TO MAKE AN IMPACT WITH YOUR COMMUNICATION
We live in a world full of competing narratives. After more than twenty five years of studying behavioral science, Owen reveals in this presentation the key elements to winning over audiences and making an impact with your words.
HOW TO PERSUADE ANYONE, ANYWHERE, ANYTIME
The most indispensable skill in the business world today is that of influence. Being right isn't enough. You need to master the art of winning others over. In this groundbreaking talk, Owen explains the key elements to doing so.
NEUROSCIENCE OF INFLUENCE
LESSONS ON HOW TO PERSUADE FROM BRAIN SCIENCE
In this presentation, Owen explains some of the latest research out there in the field of Neuroscience and how it can help us become more persuasive and effective in how we get our message across.