ENTERTAINING. INSPIRING. UNFORGETTABLE
Experience a globally renowned psychologist who will educate, engage and excite your audience
It's not easy to find an engaging, entertaining and inspiring speaker that you can trust to deliver to your audience.
There are many speakers out there, it can be overwhelming to know where to start.
It shouldn't have to be.
Owen has spoken on thousands of stages over his twenty-five year career. He has spoken to audiences in the financial, tech, pharma, public, and commercial sectors. His videos online have been seen by millions of people. An award-winning screenwriter and actor, Owen knows how to impact the emotions of the audience. A social psychologist, he is adept at highlighting the latest research and providing insights that have profound implications for the attendees. A world traveler, Owen has worked in multiple continents.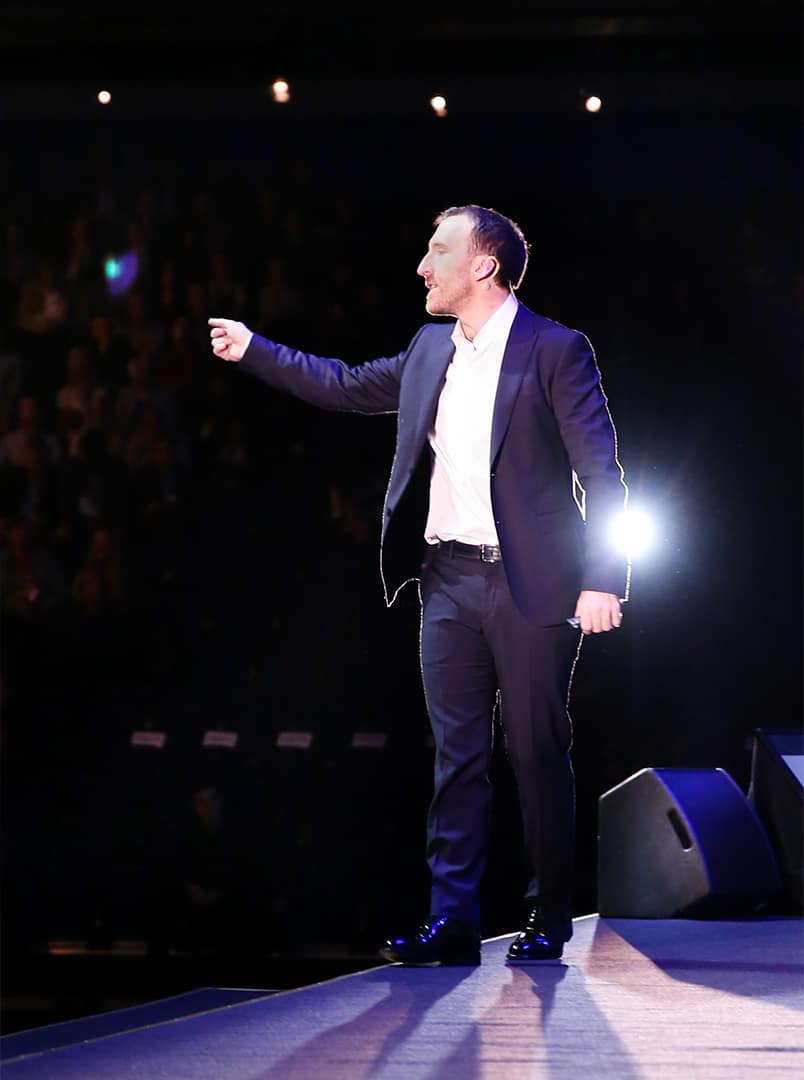 6 TYPES

OF KEYNOTE SPEECHES
THE POWER OF BELIEVING IN AN IDEA
Ideas don't lead to lasting change. Your belief in an idea leads to lasting change. In this thought-provoking keynote, Owen explains the secrets that cause ideas to be bought into and changes to be implemented. By learning how to invest belief in our ideas, our companies, and even ourselves, we gain an incredible opportunity to impact the world.
HOW TO CHANGE YOUR BELIEFS AND SUCCEED MORE
Our beliefs play a large part in determining our success. In this unforgettable keynote, Owen reveals not only why we must believe better but how we can actually do that. He presents his SCALED framework, which walks you through how you can change your beliefs, transform the way you think about the world, and succeed more as a result.
HOW TO CHANGE MINDS AND INFLUENCE EFFECTIVELY
In this transformational session, Owen explains the most critical elements of influencing and persuading others ethically. From the ancient Greeks to the latest insights in the field of neuroscience, Owen offers you a unique perspective on what actually gets people to change minds and believe in you.
HOW TO CHANGE YOUR HABITS AND CHANGE YOUR LIFE
In this fascinating keynote, Owen reveals why change is so hard and the surprising strategies we need to implement to make it easier. By explaining the basics of how our brains work, Owen shares valuable takeaways we can use today to build habits and behaviors of excellence.
STORIES THAT CHANGE MINDS
HOW STORIES HELP YOU DRIVE PERFORMANCE AND CREATE CHANGE
Storytelling is one of the most critical skills that any leader or salesperson needs to succeed in the modern world. In this keynote, you will learn the keys to developing and delivering persuasive stories that transform others. Owen will share why stories matter and how to use them to drive results.
HOW TO USE YOUR BRAIN FOR ELITE PERFORMANCE
In this game-changing session, you will learn how your brain works and how to use it more powerfully. Owen explores the fascinating science of what goes on between your ears and reveals the most important and practical strategies you can use, starting today, to optimize your thinking. This fascinating journey into neuroscience will touch on how you can create change, master focus, and influence most effectively.